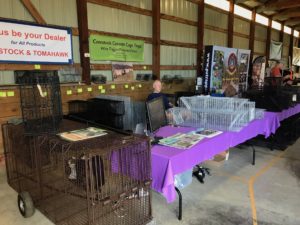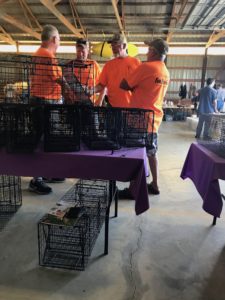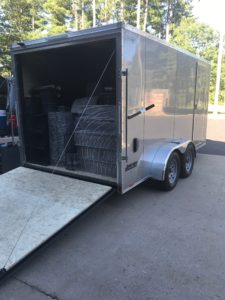 Judy and I got back from the Rockford National Trappers Convention last Monday evening after a whirlwind 2,700 miles of driving and ten days on the road.  We picked up the new covered trailer in Indiana, then went directly to the Tomahawk Cage Trap Factory in Wisconsin to load up on new Comstock Cage Traps for that show and other conventions.  Finally we had time to go over improvements/additions to the Comstock Line.  Judy and I got the tour of a vastly improved facility and spent two days at the factory with the Smiths, Greg, Jenny, Kyle, Paul and crew, then went to Rockford for the three day convention.  We saw lots of old friends at the convention and made many new acquaintances.  With lower fur prices are, those of us in ADC have done well as critters once trapped for fur have now become a real nuisance throughout the country.  Squirrels, chipmunks, skunks and woodchucks are always a problem.
The awards dinner at the Rockford Convention saw the induction of T.C. Dawson and Paul Grimshaw into the Trapper's Hall of Fame.  I had trapped with T.C. for a short ten days in 1980 and a full season in 1981-82 at his home in Florence, Alabama and also in south Alabama.  It was great to see T.C. Junior and family for the first time in 35 years.  Just thinking, over the years I trapped with two hall of famers, T.C. Dawson and Johnny Thorpe.
The Tomahawk facility has seen growth in all directions of late, with the expansion in what they already produce, as well as the addition of new useful products for ADC work.  The "Comstock Room" was well equipped with new welders and skilled operators who make excellent products of all kinds.  Jake leads the charge and really knows his stuff, a great asset.  Without the contributions from all those on the front lines literally putting it altogether, this would not be possible.  Thanks to everyone for their dedication.  Throw in powder coating for the icing on the cake and they have it covered, no pun intended.
We will be in Herkimer, New York for the NYS Trappers Convention as usual in less than four weeks, now set up with two tables at the other end of the main building.  Hope to see you there.