PRODUCING THE MOST DURABLE, RELIABLE, PROFESSIONAL GRADE OF LIVE CAGE TRAPS IN A VERY HUMANE PRACTICAL LIVE TRAP THAT ANYONE CAN USE WITH CONFIDENCE.
With all of the twists and turns associated in the development of the wire trigger, powered door Comstock Cage Traps so many have come to rely on, it's truly amazing these traps exist.  A dream for at least a decade before the first prototype came together and then years before it all came to fruition, Jim built the first wire trigger cage trap in 2001 taken from a small re-triggered, retrofitted commercial cage trap. A pan type trigger was removed from the trap and swapped out for a modified wire trigger taken from a body gripping trap. The body gripping trigger, as is, would have little value. Jim saw a way to stabilize the wire trigger and make it function in a cage trap by adding power. He had invented the first "power wire trigger " cage traps. With a mechanical mind, he engineered many more working models of powered wire triggered traps. They all worked. The first traps would not have been practical to reproduce commercially, common to the vast majority of prototypes in all inventions.
Jim could see that along with the power wire trigger, powered doors would be key to the "better mouse trap." Though the trap with the new trigger performed quite well, no pan to avoid, many hundreds of hours would be spent in trial and error, experimenting, to produce a trap with a simple wire trigger and fast power doors.
Two years later, 2003, Jim made the first swim through beaver traps, four and a five footers, 45 and 59 pounds. They were bulky, heavy and a bit unstable and so were only used a few times, though they did have potential and did catch beaver! With plans to change to a lighter cage wire material with framing, the traps were just waiting to be improved!
Entering into two separate consecutive arrangements in an effort to speed the development process, Jim realized that "his baby" was not going to become a reality unless he stayed on the course he had mapped out in his own vision of the better cage trap.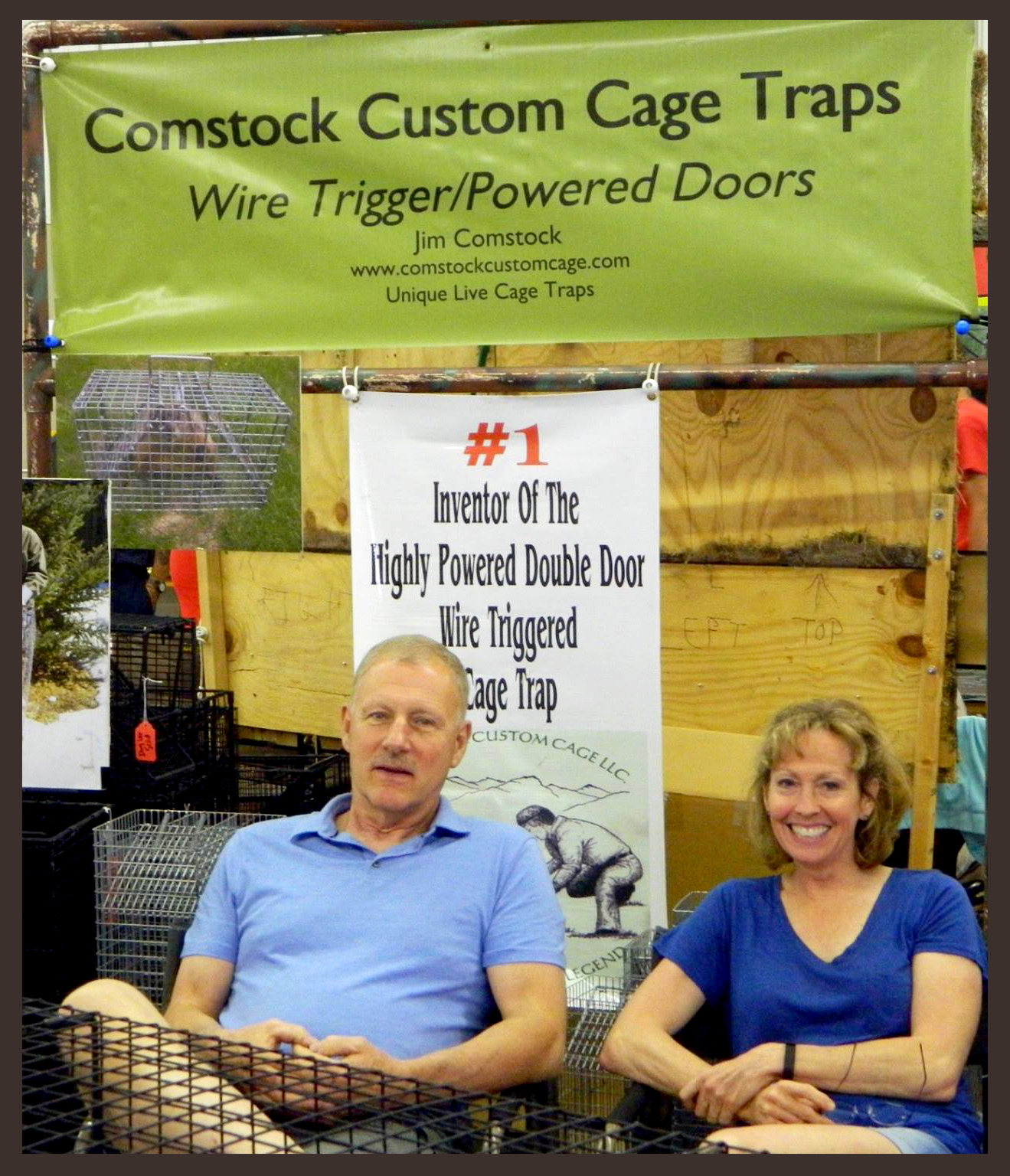 The wire trigger/powered door cage traps, which duplicated the function of body gripping traps, would become reality only if he did it.   Early partners had different ideas, so Jim stayed focussed on his dream, determined to see it through to completion. Now years into the project, he made the decision to devote 90 days, beginning January 1, 2010 to build a new trap using the knowledge he had accumulated. Having abandoned the body grip trigger element entirely to invent a new trigger made specifically for these cage traps, he first re-configured the powered door and powered lock bar bar system to be used with a new trigger that, at that time, existed in principle only. Just hours before the self imposed deadline arrived, a crude, but working trigger was installed into a completely new trap. Improvements came quickly to the new trigger, changes that have ostensibly remained intact to date.  The first traps were produced for market in April of 2010. By fall Jim had received so many requests for the beaver trap slated for winter, he just started building them, with a plan to improve as time permitted. Remarkably, as the saying goes, "if it ain't broke, don't fix it." The traps worked so well, exceeding expectations, outside of minor improvements, those traps have remained as they were from day one, with many trappers taking hundreds of beaver in them in a short time.
SEE THE DIFFERENCE FOR YOURSELF, TRY A COMSTOCK CAGE!